It's Friday!!! YES!
I've been waiting all week for this moment.
I've been waiting all my blogging life for a moment like this.
Yesterday I received a super sweet email from
Lindsay King
from
InReads
. I wasn't sure if it was spam, or possibly just someone trying to pull a fast one on me. So I let the letter sit in my inbox. At the end of this really complimentary letter she asked me a few questions about love, and marriage and relationship details. She had found a lot of herself in my words and that touched me. I wish I would have had some type of blog or person to listen to when I was in the dating seas. When I was in my teens, or twenties, making the same mistakes over and over again until my mascara was running down my cheeks. You know, other than books like The Rules and other self help stuff that essentially I would read and not listen to at all. I'm a bit bullheaded, but I digress.
Lindsay had stated that she was going to do a write up about my blog. That's what she does. She reads blogs and she writes about said blogs that catch her attention. I was a bit nervous at first so I waited for today to come. She gave me a link, to read my article at the end of the email. This morning, I got to work, checked my emails and went back to hers. I decided it was now or never, I clicked on the link. Let's just say I was floored, and for a non-super-girlie-girl I got weepy eyed.
What she wrote about me, about my blog, made me feel amazing.
She got me, she gets me and she's sharing it with the world on the internet. SCORE!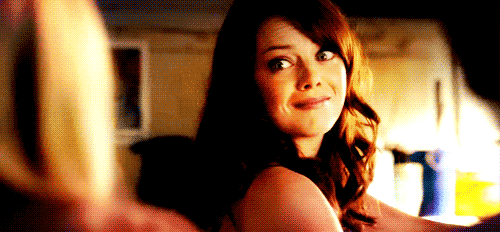 This came at a time when I wasn't sure about blogging anymore. I've been lazy lately, not sure what to write about. Not sure if my voice was one people wanted to hear. Do I start advertising to get more follows? Do I even care about how many people follow? I love my followers, but did I need more? I've always been a quality over quantity type of girl, in all parts of my life, and really didn't want to lose that. Not saying that sponsorship means that, I think it's a great way to also promote other writers in our ranks and ourselves. Add to that the fact that blogging is no my job, if I was getting paid for this, I'd work it, trust! Blogging for me has never been a passion, but more so, a way to vent. The bonus side effect is making LOTS of new friends.
Lindsay's write up has not only boosted my confidence but made me really thankful for this community, and for my ability to express myself fully, even though I wasn't sure if I was on the right track.
So please excuse me while I beam with pride and have a big head today. This morning has already started off on the right foot, and I'm not even finished my first cup of coffee yet.
Thank you Lindsay!
P.S. I am a huge Steelers fan, but my second favorite team is the Redskins. I still love my home team girl. No worries there.