Sometimes you are just minding your own business, reading your favorite blogs and a dear friend presents you with a major award! I was so excited when my real life pal
Lauren
, aka Salt of
Run Salt Run
tagged me with this nice little bitty right here...
Thank you Lauren! Not only is a great surprise, but it's also enough to bring me out of hiding from the blog world, at least for a day, right? Once tagged, I realized there were rules to this award. With great power, comes great responsibility or so the story goes... so here are the rules:
1. Post the logo on your blog.
2. Thank the person who nominated you. [Thanks, Lauren]
3. Answer the questions below.
4. Choose 10 or so other ladies, or gents who blog as your nominees.
5. Post the links to the nominees' blogs and notify them on their blog.
So here goes... it's Q and A time! (Better than T and A, am I right?)
Favorite Color
I'm going to go with Crimson Red. It helps that my favorite college sports team is Alabama's Crimson Tide, but it's not why I love the color. I will blame the love for this color on another sports team, and that's my high school's sports teams. Our school colors were Red, Black and White. So since I was on the Pom Squad (dance squad) - I always wore a lot of these three colors. Red looks especially nice on me, or so my mother always told me, so that too is another reason for this favorite.
via // I would love to have this mug I'd say PMS 186 / 185 is a pretty perfect red.
Favorite Animal
I'm going to have to go with Cats of all shapes and sizes. House cats, large cats, jungle cats. A close second would be dogs, wolves, etc. And most importantly, miniature horses / donkeys. I'm sort of obsessed.
I used to be obsessed with dolphins, but then everyone knew that and purchased me a crap ton of dolphin stuff (my ex-boyfriend from high school purchased me a big, glass and ceramic dolphin coffee table. Uh yeah, you read that right - it was
not so
glorious).
So yeah Cats, Dogs, Mini Horses/Donkeys, Dolphins and baby ANYTHING ANIMALS!
via // seriously - I can't get enough!!! He's RUNNING!!!!
Favorite Non-Alcoholic Drink
Coffee I suppose. Most days I feel like I can't function without it. I also drink a lot of water, tea and the occasional Coca Cola Classic. Frankly, to quote a rather lovable janitor "I'd rather have a beer."
via // I love Billy Madison, Rollo you crazy.
Facebook or Twitter?
I'm going to have to agree with
Lauren
on this one. Can I say
Instagram
? I love it. More than blogging, but not as much as
Tumblr
. Facebook - meh - I use it to keep up with friends back home, that's it.
Twitter
, I use it to bitch here and there and to tweet at stars of the shows I like. If you hate Supernatural, don't follow me on twitter. If you love Supernatural and don't watch the show live, don't follow me on twitter either. I live tweet the shit out of that show. It's annoying, I know it, and I don't care. If grown women can get overly excited about The Hunger Games, or Vampire movies or that Divergent stuff, then it's perfectly acceptable that I, myself, a grown woman, can get overly excited about two brothers fighting evil with an angel of the Lord, ok? [In other news, if you fall into the above categories and enjoy nerdgasms please follow me on
tumblr
- it's a pop culture dumping ground where I obsess over all my favorite fandoms.]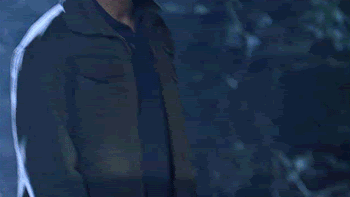 What is Your Passion?
This is a tough one for me to really answer. If I had to pick one thing I'm currently really passionate about, besides my husband - I'd have to say it's music. Music, concerts and vinyl to be more specific. It might sound silly but for now, it is what it is. I don't have kids yet, and my career is great, I love art, but I'm sort of obsessed with music.
If a band we love is coming to town, and the tickets are affordable, We're going. Most recent show we're schedule to go see is The Pixies in Nashville and I'm beyond stoked. If there is something to celebrate (say our anniversary) we hit up a concert, or a comic con, It's justified. We've gone to Music Midtown in ATL for our first and second wedding anniversaries. We also went to see The Who in Nashville the year before that, and many many more.
The love of music is so real between my husband and I, that he got me concert tickets for Christmas [Pixies] and we both purchased each other approximately 5 - 6 vinyl records between our December birthdays and Christmas. He also got 3 more as gifts from friends and another friend purchased us a InSound gift card. We are literally obsessed with music (good music, only please), and vinyl.
A year ago I would have told you I truly didn't get the difference between vinyl and just purchasing the CD. What was the big deal? I thought all hipsters and collectors were being elitists on the topic. Fast forward to this past birthday, Mike got me Wasting Light, by the Foo Fighters on vinyl. I was floored the first time he put it on the turn table - HOLY SHIT where did all this sound come from?? I have worn the CD completely out. I notice the differences immediately in albums that I've listen to for years. Ten by Pearl Jam, The Blue Album by Weezer - HOLY MONKEY, it's amazing!!! I am a true believer!
I totally get it now.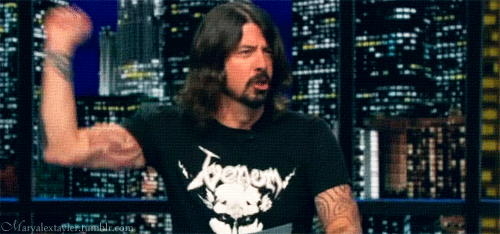 So there you have it, the gist of my obsessions and loves. Now I am supposed to tag 10 other bloggers who I'd love to play along and who I'd love to give an award to! If you haven't read any of these blogs - what are you waiting for? I can personally say all of these ladies I've chatted with through email etc and they are all awesome!!!
Lora @
Fever
Misty @
Handbags and Handguns
Christina @
Easily Entertained
Natalie @
My Crazy Busy Life
Jessica @
The Southern Transplant
Kelly @
Miss MP The Chronicles of a Sassy Magnolia
Shelley @
Red Lips and Gin Sips
Allyson @
Magnolias and Mimosas
Shana @
Fumbling Towards Normalcy
Devon @
The Mermaid Chronicles
And frankly anyone else stopping by and seeing this blog - feel free to join in. I don't want to exclude anyone - these are just a few of the bloggers that I tend to talk to here and there about life, love, and what we love about life in general!
So thank you again
Lauren
- I miss you and love you girlie!!!