It's Friday and this week has been a long one. My brain is fried, and frankly blogging hasn't really been my strong suit lately. That being said I'm trying my best to get back in the groove. What better way to spark creativity than to join in with a link up. I'm joining Leslie over at
A Blonde Ambition
for her
Confessional Friday
. I love her blog, check it out, you will love her too!
So here goes...
1. What's your middle name?
Michelle. Originally my name was going to be Michaelanne Middle Name Last Name, or Michael Scott if I was a boy. I'm not sure where Kelly Michelle came from but I guess Michelle is the closest thing to "Michael" for a girl. Oddly enough it would have been strange had I been named Michaelanne, then my Wedding stuff would say Michael and Michael (my husband).
2. If you could live anywhere else in the world where would you live?
I currently love living in the small town of Florence, Alabama but if you told me I had to move tomorrow and had to choose a town immediately and it couldn't be here or my hometown in Maryland, then I would say without a doubt Wilmington, NC. I LOVE that town. I spent summers growing up off the coast of NC on a small island (Topsail Island) about 40 minutes from downtown Wilmington. The whole area is amazing to me.
3. Tell us about your guilty pleasures.
Wine. Supernatural. And Doctor Who. Although I will say I don't really feel guilty that I LOVE these things. Maybe celebrity gossip is more of a guilty pleasure for me, and celebrity baby stalking. And Hart of Dixie. And spending hours upon hours on Tumblr and Pinterest.
4. What do you like best about your job? If you weren't doing that, what career would you have pursued?
I am a graphic designer and I am thankful I've found a job where I can be creative all day. Some days it's stressful, and a bit draining but it's what I went to school for and what I wanted most as a job. I work for a printing company so my design time not only panders to my creative side but I also have to have a problem solving element in my day to ensure all products I design, or take in from other customers work properly and make it to the press as intended. A lot of work goes into a project to get it press ready. There is no "EASY" button.
If I wasn't a designer I honestly would love probably to own a boutique that catered to surfers and skaters, men and women. Somewhere on the beach (maybe in NC) and I'd like to spend my days chatting with folks about what they needed for the next swell. I definitely would want to bring my dog to work everyday. How amazing would that be?
Our baby June - wouldn't you love to see this smiling face at work everyday?
5. Five items you'd grab during a fire. (People and pets don't count. Those are a given.)
If Pets and my husband are a given I would go with the following.
- The ring my mother passed down from her family to me, passed down from women on her side.
- The clock my father gave me that was the first clock he ever restored
- Photo albums
- Change of clothes or shoes (especially if it was night time)
- my jewelry box full most of my sentimental items are jewelry from Mike, my dad and mom.
6. Marathon running...something you'd like to pursue or just plain crazy?
I never say never. I would like to start trying to jog and see where it takes me. My dear friend
Lauren
recently took up the sport and she's blowing my mind! So proud!!!
7. If you could only eat one meal for the rest of your life, what would it be?
Pizza. Hands down, I don't even have to think twice. There are so many different combinations that I think I could be fully satisfied with it, forever.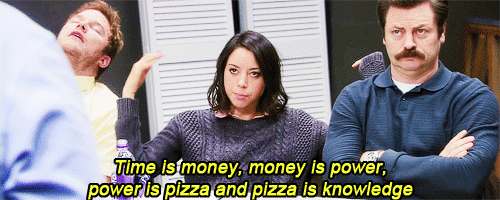 8. Last person you spoke to...annnnnd....go!
My co-worker about a job that needs to be printed.
9. Favorite childhood toy
I had a teddy bear I named Fonzie. My mother would correct me to say Fozzie as in the bear from the Muppets and I would correct her saying "NO, Fonzie as in, THE FONZ." I was really obsessed with Happy Days as a kid.
I still love The Fonz / Henry Winkler • via
10. Breakfast cereal of choice
If I want junk food Reese's Peanut Butter Puffs. If I'm trying to be healthy, then I will eat Kashi's Cinnamon Crunch I think it's called. It's really tasty with Vanilla almond milk.
Join in the fun - head to Leslie's blog and link-up!
Happy Weekend Everyone, and if you're new here, thanks for stopping by!